OK, I've been away a bit
Well, Just thought I'd revive this ol' thing. I blew the dust off the garage and removed some accumulated cobwebs to say --- I'm Baaaaack!

LOL. Anyway, I found a great place to hhost some pics for me, since putting pictures up is about half the reason I'm blogging. Shocker isn't it!

Here's a picture of my newest modification . . . a Dodge Ram body!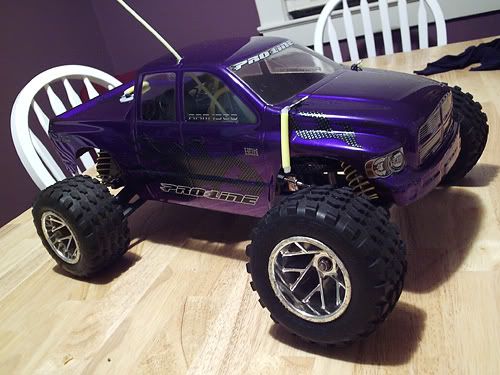 Neat, eh? The purple color is really stunning and turned out better than I thought it would.

Now, since it is nearing christmas time, I thought I'd go into a few things I ordered for Christmas so far. Yeppers more modifications to the truck LOL! for starters:

Purple Aluminum shocks (front and rear) --by Duratrax
Hobbico Precision tool set

Possibly:
RPM CLaws Wheels (dyeable)
Golden yellow Rit Dye
Imex Claw Dawg Tires

Will see deepending on what Julie will allow me to get :D

Thats all for now, Have a Merry Christmas !

Nitty